Come and See
1 in 5 people watching church online during the pandemic didn't regularly attend before the crisis.
Come and See is a free online experience to help everyone find out more about the Christian faith.
Watch the first weekly film from Bishop Steven.
As far as we know, we are the only part of the whole universe able to consider the cosmos and its meaning. But who gave us that desire - the need to know and understand what we are created for?
Who is it for?
Come and See is an invitation to everyone, for everyone. It's for anyone who feels adrift in this pandemic, whether or not they know anything about the Christian faith.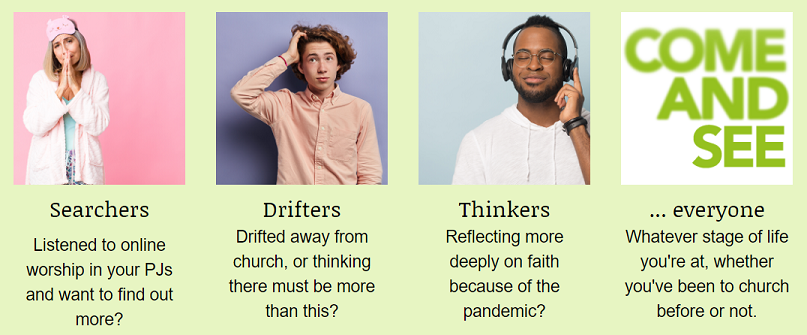 How do I join in?
There are daily reflections and weekly videos which are added to the Diocese website as they are published, or you can sign up here to receive them by email.
Come and See started on 17th February but you are welcome to join at any time.
Can I join an online group?
For those who would like to meet, virtually by Zoom, we are laying on 6 sessions over Thursday evenings, and Saturday breakfast-time (dates and times below). These will provide an opportunity to discuss the reflections, videos and podcasts, and how we are reacting to what we are discovering about God, and ourselves through "Come and See". Email Lucy Laird to receive a Zoom link to enable you to join us.
Thursday from 7:30pm – 8:45pm on 25th February, 11th and 25th March
Saturday from 8:00am – 9:15am on 27th February,13th and 27th March
Prefer to chat one-to-one?
If you would like to discuss your thoughts about "Come and See" one-to-one please contact one of the ministry team on the numbers below.
Rev'd Norma Fergusson 01793 784338
Canon Paul Richardson 01793 710241
Richard Fergusson (Licensed Lay Minister) 07788 436831
Bishop Steven's invitation to Come and See.
Matthew's story.
Nour's story.
Dom and Katie's stories.